If you are receiving browser notifications of new saved searches or updates to saved homes, you can easily manage or disable them with the steps below.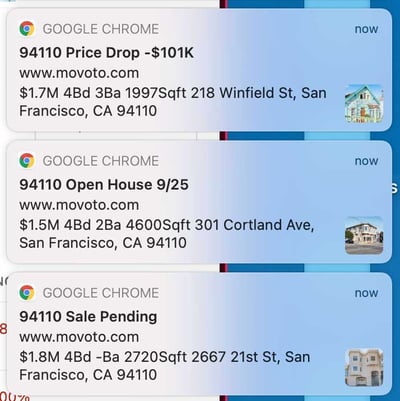 To adjust Movoto Android or iPhone app notifications, please click here.
Turn off specific browser notifications
To remove specific zip codes, go to https://www.movoto.com/feed. Click on the zip code and click on delete. Editing the type of properties that are delivered to your email can also be updated here by clicking on "edit" and choosing the options that you would like sent to you.
Turn off all notifications
To turn off all browser notifications, go to https://www.movoto.com/notification/?disable=all. You will land on movoto.com and be presented with the following screen. Click on the "Yes Disabled All" button to turn off your notifications.
To block Movoto browser notifications
You can remove Movoto browser notifications by device by removing the access you granted by following the steps below.